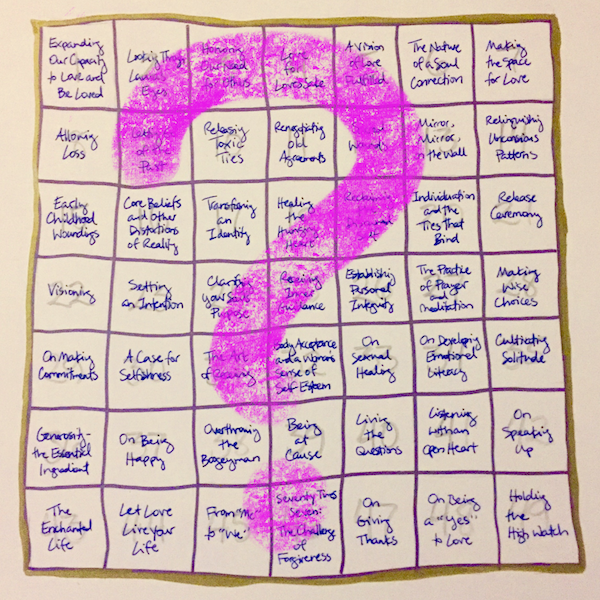 To be honest, I am hoping you won't see this.
I am intending for this project to be semi-private, shared only with a small handful of women who might benefit from my musings.
To that end, I was all set to purchase a new domain so that I could anonymously write blog posts for the next 49 days.
But then I remembered that I already own a domain that is essentially unvisited.
So, I'm kiiiiinda banking on the fact that no one actually still checks out this website, and if my hypothesis proves incorrect, well…
Welcome to my love life.
Or, more specifically, welcome to the processing of my love life via working my way through Katherine Woodward Thomas's book Calling in "The One." 
For the third time.
But, like, third time is the charm, right?
The first time was not the charm.
The first time I bought this book was in 2012. I had about a year sober and a huge crush on a guy in my program.
We flirted a lot and I thought things had a chance. So when I was visiting my aunt's bookstore in North Carolina and happened upon a text that made enticing promises, I was sold.
e.g., from the back cover:
Meditation, visualization, and journaling exercises will gently lead you to recognize the obstacles on your path to love and provide ways to steer around them. At the end of those 49 days, you will be in the ideal emotional state to go out into the world and find "The One."
Of course, I thought I had already found The One. (Let's call him Jim.)
But given that I hadn't entered a real relationship in 5 years and the last one was highly toxic, I didn't want to take any chances.
I bought the book and a special journal and I got started right away.
Calling in "The One" is a 49-day thing. I made it to Lesson 18.
Somewhere in there I started dating Jim. A few weeks later I stopped (things blew up HORRIBLY), and I grieved and recovered and moved forward.
I published a dating book of my own. A year or so passed. Through a v. unexpected turn of events, I started dating Jim AGAIN.
I was sure this time was different. Which it was.
Because instead of three weeks of fantasy, denial, and disaster, Round Two lasted for more than a year. And included cohabitation. (And at one point, police, but that's a story for another time.)
Fortunately, I'd learned a little something from my previous long-term-toxic-relationship experience, so I moved to a studio apartment before things could get even worse.
Second time…nope, also not the charm.
Back when I moved in with Jim I got rid of a lot of stuff, including my copy of Calling in "The One." Because obviously, hello, he was already here!
By the time I relocated to my own place uptown, I'd developed a meditation practice that connected me deeply with my intuition. Also to my spirit guides.
I was still with Jim (who, by the way, did not know about the spirit guides, as he would have considered that witchcraft or satan worship).
But the spirit guides were clear: Work through Calling in "The One" again, they told me.

So I ordered another copy and turned to a fresh page in the designated journal I still had from before.
This time I made it to Lesson 9.
Then I broke up with Jim.
Then I spent six glorious months with very little focus on romance, because I was way too distracted with questioning every other aspect of my life.
About midway through that time I had an incredibly transformative breakthrough that allowed me to finally, finally be willing to fully forge my own life path even without the partner I so deeply desired.
Three months later, I met the partner I so deeply desired.
It was fucking perfect.
Okay, no it wasn't. But it was still hands down the healthiest, happiest relationship I have ever been a part of. I for sure would have married him.
Then he asked for time apart.
Wouldn't it be nice if this time was the charm?
About six weeks ago, the best partner I've ever had, who is not perfect but who is definitely worth loving for a lifetime, told me he wanted to feel more free.
He also told me he wanted to marry me.
He also told me he didn't feel able to give me what he knew I deserved, and that he didn't want me to settle for less.
He also told me that if he could have till the end of the year to be alone, he felt like he could get clarity on his hang-ups and true desires and intentions.
Since I love him for real (and since there was not exactly room to negotiate), we agreed to part ways.
No lie, I was hard core on the struggle bus for a good few weeks.
It took me 19 days (and the birth of my niece) to realize our relationship had actually ended.
It took another fortnight to finally stop checking his Facebook page. (It's been 9 days and counting…l AM A CHAMPION.)
So I'm in a weird place. I don't want to wait for him. But I don't want to date anyone else, either.
Actually, fuck charms. I've got lessons to learn.
In the meantime, I've thrown myself into my work—which is wise considering right before the separation surprise, I quit my job to start my own business.
I've also gotten super into Marianne Williamson and A Course in Miracles.
(Only love is real! That truth helps me a lot.)
And since I'm on Marianne's mailing list and I don't ignore her emails, I saw a promotion last week for a free seminar on none other than Calling In "The One."
I was tempted to ignore the opportunity: I am already doing SO MUCH inner growth work. And I've been (partially) around this specific block TWO TIMES already.
But something nudged me to sign up anyway, and although I missed the live session, I kept the replay tab open in my browser for more than a week.
I finally listened today, and, well, here we are.
I want lifelong love in the form of a physical partnership. And I am calling it in.
So I'm going to work through every motherloving lesson over the next 49 days, and that's that.
A promise and a request
I promise to actually work through every lesson in this book.
Maybe I need it, maybe I don't, but I might as well finish what I started.
It's not like getting clearer on my own hang-ups can hurt.
In any case, I know that I need the accountability of blog posts in order to actually accomplish this task.
And who knows, maybe sharing about my experience can help someone else.
So if you are reading this, I have a request:
Until my 49-day journey is complete, PLEASE, for the love of everything, DO NOT tell me that you saw this.
I don't care if you want to creep on my progress—hell, I hope you do and that it's useful to do so. Go ahead and share the link, for that matter.
But if I get the feeling I am writing for any audience other than an imaginary one, I might well lose my mojo.
And I NEED my mojo for this endeavor.
Because even though I am availing myself of an abundance of strategies and resources to move through this time of growth and uncertainty, nothing heals me like putting words to a page.
So please, PLEASE don't take this release away from me by making me self-conscious.
Maybe later, I'll come back through and clean up these posts, add some links, make them SEO-friendly.
But for now I am deliberately flying under the radar.
So, you know, by all means keep reading. Just pretend like you didn't, okay?
Love > fear,
Christina
Want to know what happens next? Proceed to Chapter 1.