You're about to read Chapter 48. Want to start this story from the beginning? Go here.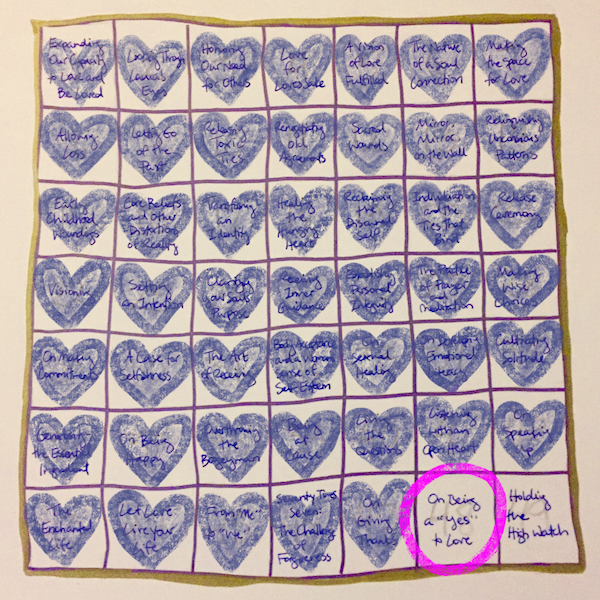 I have to say, I am really grateful I am almost been done with this book.
Because, well, I am pretty much done with this book.
I am also not feeling my very best so maybe that is why I am a bit impatient, but really, I did not learn much from this penultimate lesson.
I am reluctant to critique Calling in "The One" because I can't deny that it has proved to be a helpful tool.
But several of the lessons feel repetitive, and this one in particular felt obvious. Like, it could have been Lesson 1.
In other words, this lesson seems like a reprise of the most fundamental concept, which is to open up to love in order to receive it.
"To love is to risk. There is no way around it."
Well, no shit.
"There is simply no way to change your life without changing how many risks you are willing to take," Katherine says.
And I agree. Clearly. All I ever do these days is take risks. I don't need to be convinced.
In fact, I don't need to do anything—at least, not anything else.
Already, I am doing so much. Journaling and meditating and praying daily, seeing a therapist, working a program of recovery, receiving energy healings, providing energy healings for others…
It's safe to say I am open to change.
Still, while I don't need much encouragement to take risks, I appreciated the reminder to be discerning.
Be careful that the risk is worth it
Being vulnerable does not mean opening up to just anyone.
"We can't allow our desire for love to blind us from seeing what it is that another person does, and does not, have to offer at this particular time in our lives."
I have made that mistake before.
Definitely with Leo and Jim, and also a little bit with Paul. (But just a little bit with him, thank goodness.)
For real, though, the first time Jim told me he liked me, he literally said:
"I like you, but…"
HE SAID "BUT" AND I DID NOT LISTEN.
Jim's concern was that he did not have enough time to invest in a relationship. I assured him that was no problem, that I would never need anything.
Then I even tried to make that statement true. Ugh.
That was five years ago and I have come a long, long way since then. I am careful about who I trust, and I make sure that a person is available and open to love before I invest my energy or my time.
Still, less than four months ago I was insisting that 95% was enough.
However. Although I was reluctant at first, I can honestly accept that Paul may not be able to offer what I need.
But also, I really believe that he can.
Side note: I should probably stop listening to Paul's music, but I can't bring myself to do it
Every day I go to my kitchen and take a dry erase marker and draw a checkmark on the white board that I have turned into a calendar.
With a few exceptions—two question marks and one very definite X—there are checkmarks for every day since September 30, which is when I decided to actively avoid Paul's social media.
It was the only solution I could come up with to help protect me of the pain of seeing him online but not actually knowing him.
And really, it has worked well. I am still tempted to look him up all the time, but the accountability of the checkmarks actually helps.
But I did leave myself a loophole, and it has become a problem I do not want to solve.
Paul is a musician, and when he posts a new song to his YouTube channel, YouTube notifies me by email.
This has happened twice now since our separation.
The first time, I was thrown off enough that I agreed to go on a date with a stranger, in part just to get Paul off my mind.
(My other reasons had to do with the intentions of Lesson 24.)
The second time was yesterday, and my reaction was much better. I cried, but only because the song genuinely affected me.
It is hard to observe Paul's artistic evolution from a distance. I miss hearing him talk about his daily discoveries and ambitions. I liked having behind-the-scenes understandings of what motivated his music.
Now I am just a listener among listeners. I can't even go to his shows without it being a "thing."
And all that is okay.
I am actually relieved to discover I genuinely value his music. When we were dating, a small piece of me wondered if I'd love his work even if he was a stranger.
And while I can't completely remove my previous association with him, I am confident that yes, I would still be intrigued.
I am grateful that even when we are apart, I can still appreciate his art.
Back to saying yes to love, which means staying open almost all the time
It is easy to say we want love and then also to hide from it.
Katherine talks about a woman who, as a way to avoid disappointment, shunned dating sites and had very selective standards.
This woman thought she was being appropriately picky and allowing for her partner to arrive organically.
But really, Katherine says, "on some level it was easier to stay in the fantasy that her prince would just magically appear one day."
In reality, we have to let our guards down and actually admit how much we want a relationship. We have to risk rejection, even humiliation. And we have to surrender control.
"If I say I'm looking to expand the experience of love in my life, then I've got to become present and available to everyone I meet, and not just the people whom I immediately assess as being the ones who may be able to give me what I want."
My connection with Paul is a testament to staying open
I think I have mentioned this before, but I really feel like connecting with Paul was the manifestation of my faith in this philosophy.
When I met him, I was active on several dating apps and even had a paid membership to an online service.
Most recently, I'd been seeing a man I met randomly in a subway car. (PSA: If you think someone is attractive and you smile at them and make continued eye contact, anything can happen.)
The night Paul and I both attended his cousin's party, I was feeling relaxed and confident and I was not trying to impress him. Even when he gave me his card, it did not occur to me that he could "give me what I want."
In fact, I thought he likely could not give me what I wanted. I knew he was a musician and had long ago sworn off "his type."
(My first love was a musician, plus I've dated a couple other artists. And in my experience, artists tend to put their crafts above their relationships. Which is actually something I worry about my own self, too.)
But I kept an open mind anyway, and I got to know him gradually.
First a browsing of his Facebook page, then a late-night conversation on Messenger a couple weeks later.
By the time we met to see a movie in mid-January, I was curious but not attached. And for the two dates that followed, my interest increased but my expectations did not.
In facet, I wasn't sure our dates were even dates; I thought maybe we were just hanging out and exploring a friendship.
Then at the tail end of date three, we kissed, and everything shifted.
Mind you, I've had my share of kisses. But I've never felt anything like that in my life.
So honestly, I don't blame myself for wanting to find out whether I will feel it again with him.
January isn't so far away.
And I will keep staying open, just as I have been.
Lesson 48 in practice
I tried to do this homework. I really did.
Granted, I did not try very hard, but I made an honest attempt.
It just didn't work.
See, for this homework, we were supposed to make a list of all the risks we haven't taken and all the actions we have been avoiding in our quests for love.
Then for each item on the list, we were supposed to complete journaling prompts such as, "By avoiding doing this, I'm protection…" and "The action(s) I could take that would represent a risk are…"
The problem for me is that I legit could not come up with a list.
Like I said before, I take risks all the time, especially in my quest for love.
In fact, the only risk I have not yet taken would be to call up Paul and demand a resolution to our limbo, and I believe that action would be wrong.
(In fact, I know that action would be wrong. My spirit guides have been very clear that when it comes to Paul, authentic communication will resume and that patience is my best bet.)
So I played with subverting the assignment and instead making a list of actions I have taken.
It started like this:
Craigslist.com, match.com, chemistry.com, eharmony.com, plentyoffish.com, sparkology.com, spiritualsingles.com, Hinge, Tinder, Coffee Meets Bagel, Happn, Bumble, Tonight…
It also included:
smiling at strangers, passing notes to strangers, handing out #AYMBF flirt cards to strangers, taking intimacy classes, reading dating books, writing dating books, writing letters to my husband…
But the biggest, best, most repeated risk that I take?
I have faith.
Love > fear,
Christina
Want to know what happens next? Proceed to Chapter 49.
Missed what happened before? Go back to Chapter 47, or start from the beginning.