You're about to read the Postscript. Want to start this story from the beginning? Go here.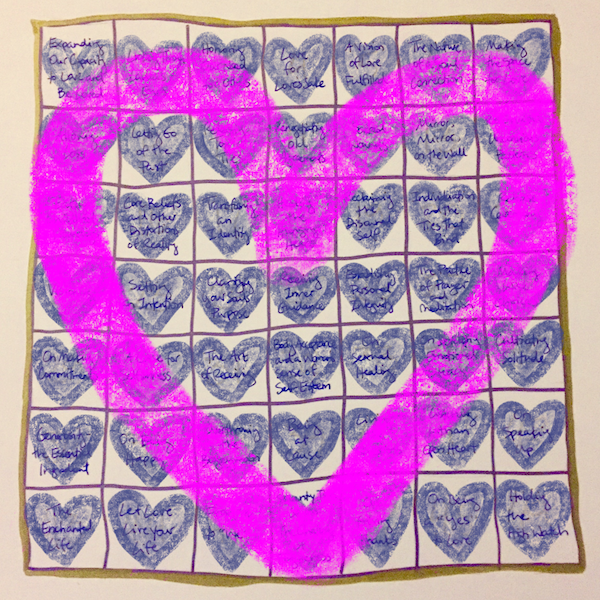 "Love is a 24/7 job."
I feel a little anxious about the ending of this blog.
For nearly two months, I have had a defined focus, an anchor in my heartache.
Now this project is finished, except of course it will never be over.
Because, yes, "Love is a 24/7 job. It will never be contained in a particular form of a particular relationship on a particular time schedule."
It honestly doesn't matter what happens with Paul or what doesn't, because "the fulfillment of love is not to be found in the future. The fulfillment of love is always to be found right now."
Right now, I am willing to let go of Paul. I am willing to let love lead.
Yesterday I felt so attached to Paul. I was upset about it; I had hoped these seven weeks of effort would lead me to release.
And granted, there has been an awful lot of release.
No question, I am not the same person who started this quest. I have faced a lot of discomfort and pain and made some invaluable breakthroughs.
In particular, I am so deeply grateful to have uncovered my subconscious connection between love and success.
In a deep down secret space, I really believed I could not have both, and that is no longer how I feel.
If for that insight alone, I am so glad Paul pushed me toward this place of  solitude and reflection.
Because I need to be brave and kind and surrendered and honest and committed.
I do not need to be afraid.
I know this is not the end.
If the last seven weeks have taught me anything, it's that every day is different.
Some days I feel strong and healed and compassionate.
Other days I am angry and resentful and hurt.
Or, most commonly, I have all those feelings on the same day.
Practicing acceptance of all the feels is a challenge and a blessing.
Witnessing the transformation of my emotions is surefire proof that this too shall pass.
And while I do not have a concrete resolution, I also realize that I never will.
Even if Paul returns and we decide to try again—even if we commit to marriage—there will never, ever be a guaranteed outcome.
True love is never safe, but it is always worthwhile.
And I am willing to do the work.
Love > fear,
Christina
Missed what happened before? Go back to Chapter 49, or start from the beginning.