You're about to read Chapter 43. Want to start this story from the beginning? Go here.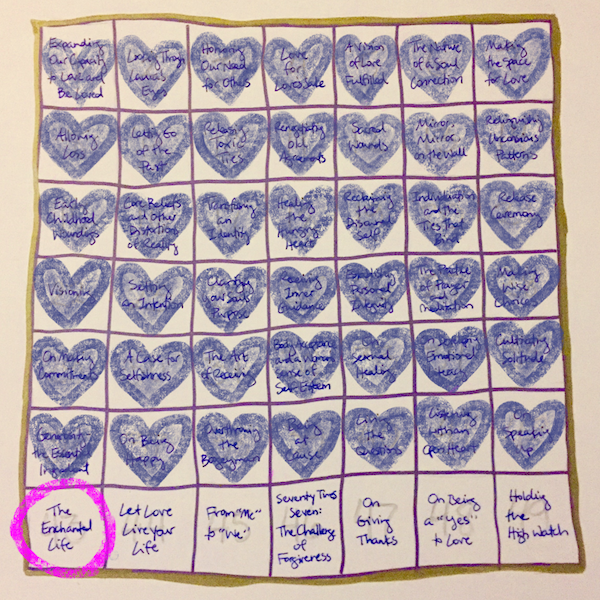 "The Enchanted Life" really just means "The Grateful Life."
And I am so grateful to be living it.
Week 7 out of 7 has begun
First of all, although I have consciously avoided making too much fuss about tracking my progress throughout the last six weeks, I think it is worth noting that THIS IS THE LAST ONE.
I am in the home stretch!
Just seven more days until my soul mate knocks on my door!
(Kidding, kidding.)
But truly, I am proud of myself for sticking with this—and I am especially impressed that you, dear nonexistent reader, have kept up with me this long.
It has been quite a journey, I'll tell you what.
And I know it's not over yet, but when I reflect back on all that I have thus far surfaced, processed, released, and transformed, I am relatively certain that the hardest parts are behind me.
And oh, good lord, am I grateful.
I feel happy today(!!)
Sometimes you don't miss something until it's back.
For me, happiness is like that.
I am so good at pressing on, at this-too-shall-passing my way through challenges and distress, that at times I forget what it even feels like to be genuinely joyous.
But today was the second day out of the last three that I just plain felt good.
Oh, man what a good feeling. And I can even tie it in to Lesson 43.
You do not need a partner to be in love. You need to be in love to have a partner.
Katherine doesn't come out and say this quite so directly.
But she does assert that "the mystical heights to which we aspire are not necessarily dependent upon any one person or any one kind of relationship."
And I know she's right, because before I met Paul, I had finally settled into a groove of loving my life on my own terms.
I am convinced that he wanted to get to know me better precisely because I was feeling fulfilled, happy, and confident—and it showed.
What we often attribute to being "in love" is really just a renewed opportunity to be "so happy, so alive, so connected, and so inspired."
But to experience those states, a partner is most definitely not required.
"We cannot wait for someone to choose us before we begin experiencing enchantment and magic in life."
The larger spiritual truth is, of course, that all we have is now.
I can't postpone my joy until someone else arrives to inspire it.
The inspiration—just like breathing (aka the literal meaning of "inspire"—is always with me.
It's true what Katherine says, that "there is tremendous freedom in being able to appreciate and relish the life you have right now, inclusive of all its quirky and peculiar imperfections."
Nothing is ever going to be perfect, and I am never going to have anything other than this moment.
So I might as well savor it.
Here is a beautiful Rumi poem (+ my profound takeaway)
I love Rumi. So I appreciated that in this lesson, Katherine included an entire passage of his, which I am retyping here:
This is how a human being can change.

There's a worm addicted to eating

grape leaves.

Suddenly, he wakes up,

call it grace, whatever, something

wakes him, and he's no longer

a worm.

He's the entire vineyard,

and the orchard too,

the fruit, the trunks,

a growing wisdom and joy

that doesn't need to devour.
What a blessing it is, to receive the message of this poem.
If Paul is a grape leaf, I am no longer a worm. My world is already replete with all the love I could ever need. I do not need to devour.
Lesson 43 in practice
We got a journaling reprieve with the homework for Lesson 43. This exercise was a simple meditation that I simply loved.
The assignment was a practical extension of Katherine's point that "magic only happens when one is fully present and available to what is so, and not preoccupied with what is not."
In other words, if it's true that one must be a blessing to live a blessed life, then it's probably a good idea to count your blessings.
I bless (my) _____ exactly as it (s/he) is right now.
Fill in the blank for just a few minutes and it's near impossible not to experience gratitude, or, as Katherine frames it, "enhance the experience of enchantment."
My own list was refreshingly basic and all-inclusive. Among other things, I blessed (in no particular order):
my couch
my greasy hair
the situation with Paul
Paul's cousin and his wife
my whole entire family
my spirit guides
all the joy
all the loss
my period
our president
Paul's band
the past
the future
now
all my clients
my chapped lips
….and so on and so forth.
So much total acceptance and peace and bliss, I wrote when I was finished.
Thank you for this.
Love > fear,
Christina
Want to know what happens next? Proceed to Chapter 44.
Missed what happened before? Go back to Chapter 42, or start from the beginning.